Over recent years the property marketing industry has seen a shift in marketing trends bought on by the rising increase in digital life. Going back a few years, marketing campaigns used to be clunky and static but those days are vanishing fast! Digital trends have changed the way we consume information and as a result we now have very short attention spans so marketing needs to be succinct and to the point. Our new digital lifestyle, the way we communicate, and the gradual loss of formality have impacted trends in property marketing.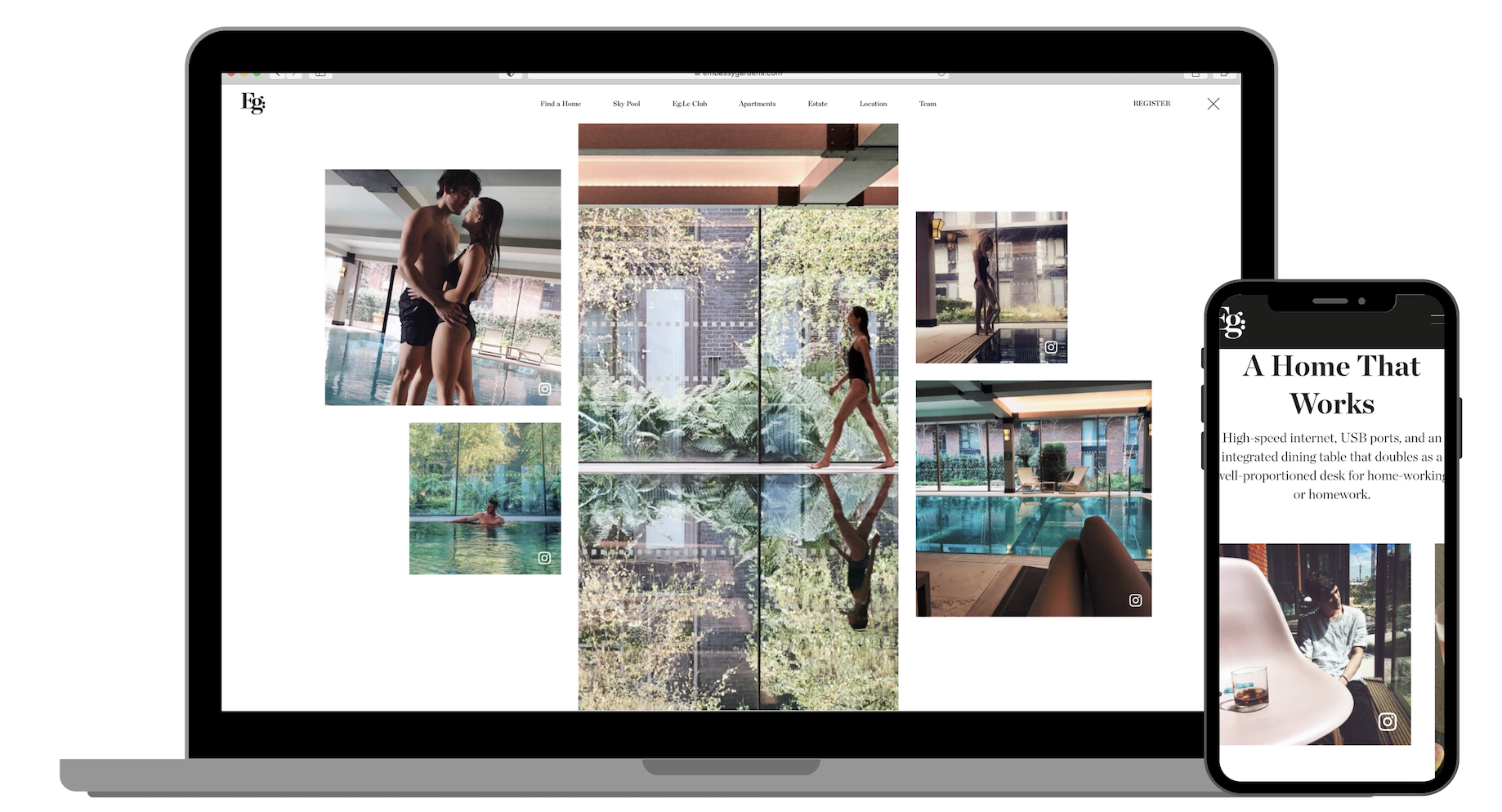 Embassy Gardens integrates residents Instagram feeds throughout their website to demonstrate the lifestyle on-site
The key drivers:
– Digital lifestyle
We live our lives on digital – socially and professionally. Our digital consumption has changed our lifestyle and buying habits, and our expectations are now to see immediate live information. Did you know that digital consumption is responsible for our attention spans dropping to the lowest they've even been – apparently 15 seconds! Luxury fashion brands have been leading the way on the digital path for years and now the prime property markets are paying attention. Digital has now engulfed every single aspect of our lives.
– The way we communicate
Different ways of communicating have taken over such as WhatsApp, Zoom, Telegram, TikTok, Insta to name but a few. Email will always have its place but there is also now a place for faster less formal marketing and exchange of comms. Marketing campaigns now need to think carefully about each platform and how to effectively communicate to their relevant target markets across them. Whether that's WhatsApping a price list, a brochure or even a short animation to keep decision makers interested, the use of comms can now be effective immediately.
– The gradual loss of formality
Stiff and stuffy are gradually becoming things of the past. You can see this all around us – people no longer wear suits to the office favouring jeans and trainers, even Michelin starred restaurants are more casual and a lot more fun! We are seeing this trend filter through all aspects of marketing from how purchasers or occupiers are communicated to and the marketing campaigns that are created for them. Authenticity and meaningful interactions mean a lot more to decision makers.
What does this mean moving forward?
Content asset tool kits
Crafted assets that are responsive, fluid, agile and flexible – marketers need to have a tool kit of flexible assets that can be used adhoc to bespoke mini marketing campaigns and incentives along the journey. The customer journey used to be a fixed campaign sequence, whereas now it's more of a backbone providing a structure with the ability to spin off and create agile responsive content marketing along the way.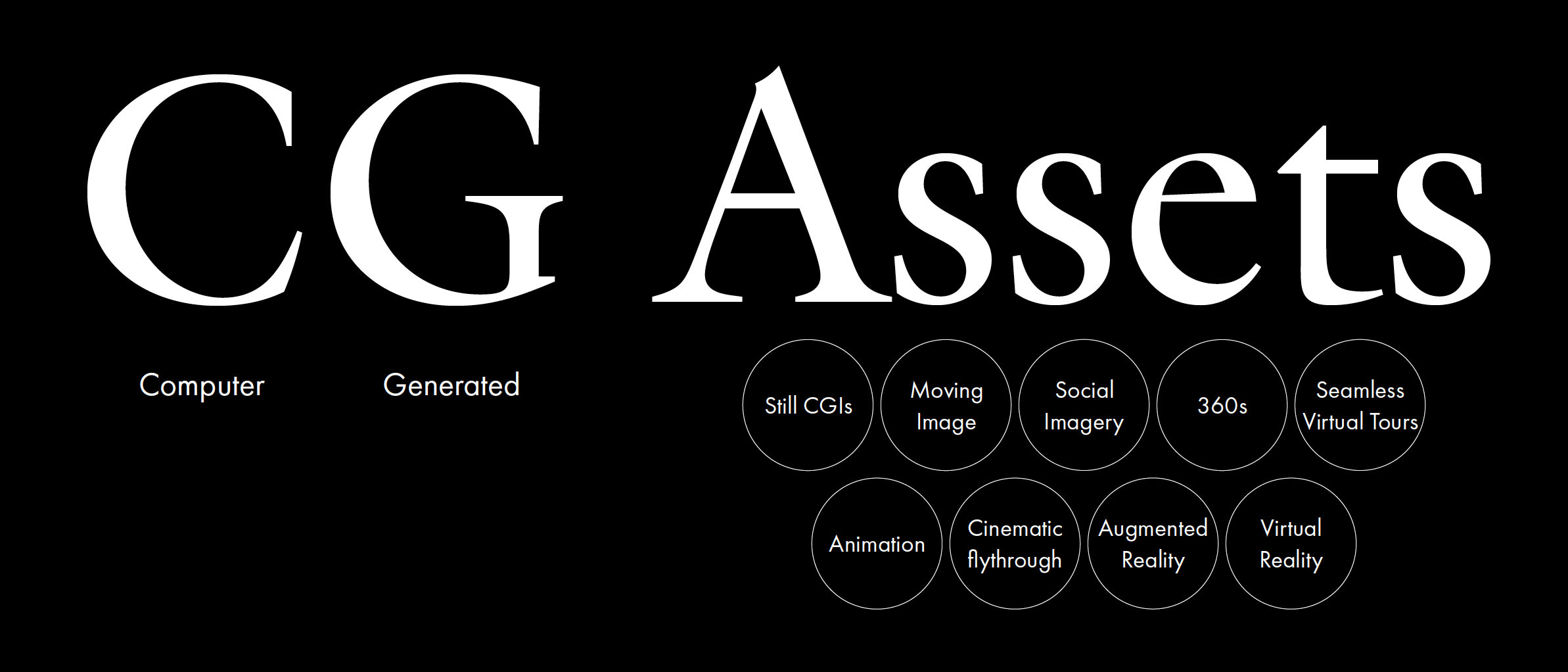 Bespoke marketing
Marketing at the top end of the market means dealing with decision makers who are typically time poor and expect to see only the highest quality. Being responsive and agile with marketing means that communications can be bespoke to the needs of the purchaser cutting straight to the information that is of use to them.
Digital first
Digital first is a term that gets thrown around a lot in marketing and we are really only starting to see digital first strategies implemented within property marketing. It means more than having a website. It's having a full marketing and communications platform that enables marketing to be activated digitally across all touch points. But more importantly it's a mindset. It's being agile, responsive, reactive and ahead of the curve on news, thought leadership and content creation.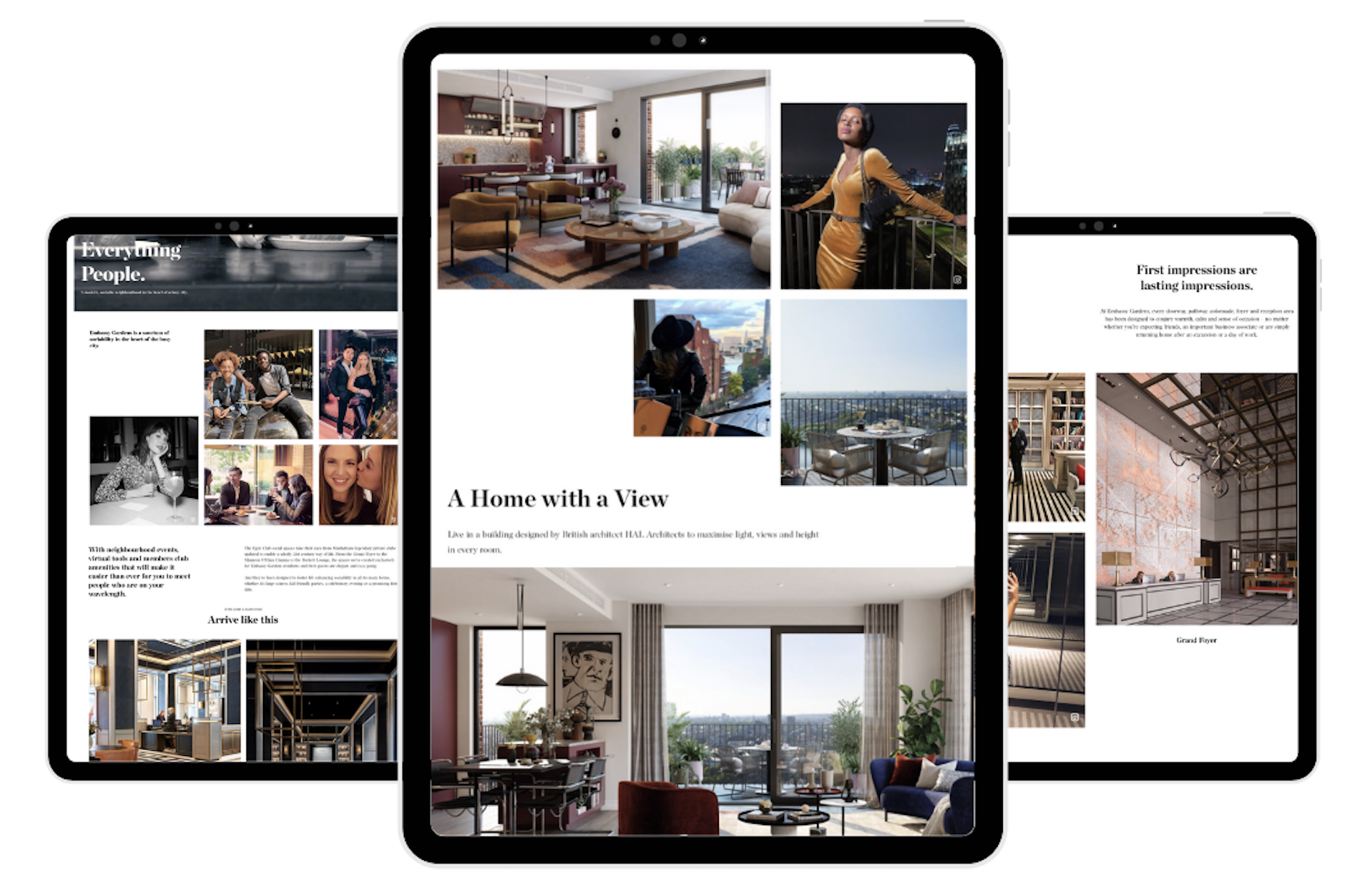 Embassy Gardens integrates residents Instagram feeds throughout their website to demonstrate the lifestyle on-site
Trends are seeing property marketing catch up with consumer and luxury brands, where campaigns are living, breathing, activated things that have a life of their own. They are alive with relevant news and information, providing different experiences at every single touch point from a WhatsApp message through to a cinematic production in a marketing suite.