We've seen the market change significantly over the past 12 months in how people are using digital and virtual marketing, but will it ever go back? The essential need for remote marketing has propelled property specific R&D in the tech space and now the demand for it has meant that new ways of virtual marketing are here to stay. We're delighted to see clients embrace this head on when it comes to marketing to international audiences.
Marketing to international target markets
Innovation and tech have finally arrived to the quality and standards that meet the discerning expectations of international target markets. The one thing that makes a launch successful (or not) is having a thorough understanding of the target market at macro and micro levels. Every purchaser is different and has a different set of needs, style of communicating and expectations. Digital can make the experience much smother and seamless but also runs the risk of lacking that personal authentic touch that you get when you meet people in real life. Every digital touch point needs to be considered to reflect the needs of the individual from the use of WhatApp and Zoom through to virtual tours and presentation of product.
It's safe to say that whether a purchaser is looking for their new family home or even their second or third home, their expectations are exceptionally high. They want clear, concise information delivered in a sleek seamless manner. And this could be the place where the savvy developer can seize their moment!
The future of luxury marketing
Digital consumption has changed lifestyle and buying habits – socially and professionally we all live our lives on digital! The embrace of digital and virtual trends means purchasers have control of the buying process, which puts them back in the driving seat. The creation of virtual assets such as virtual tours, augmented reality and walkthroughs means that they don't need to leave the comfort of their own home.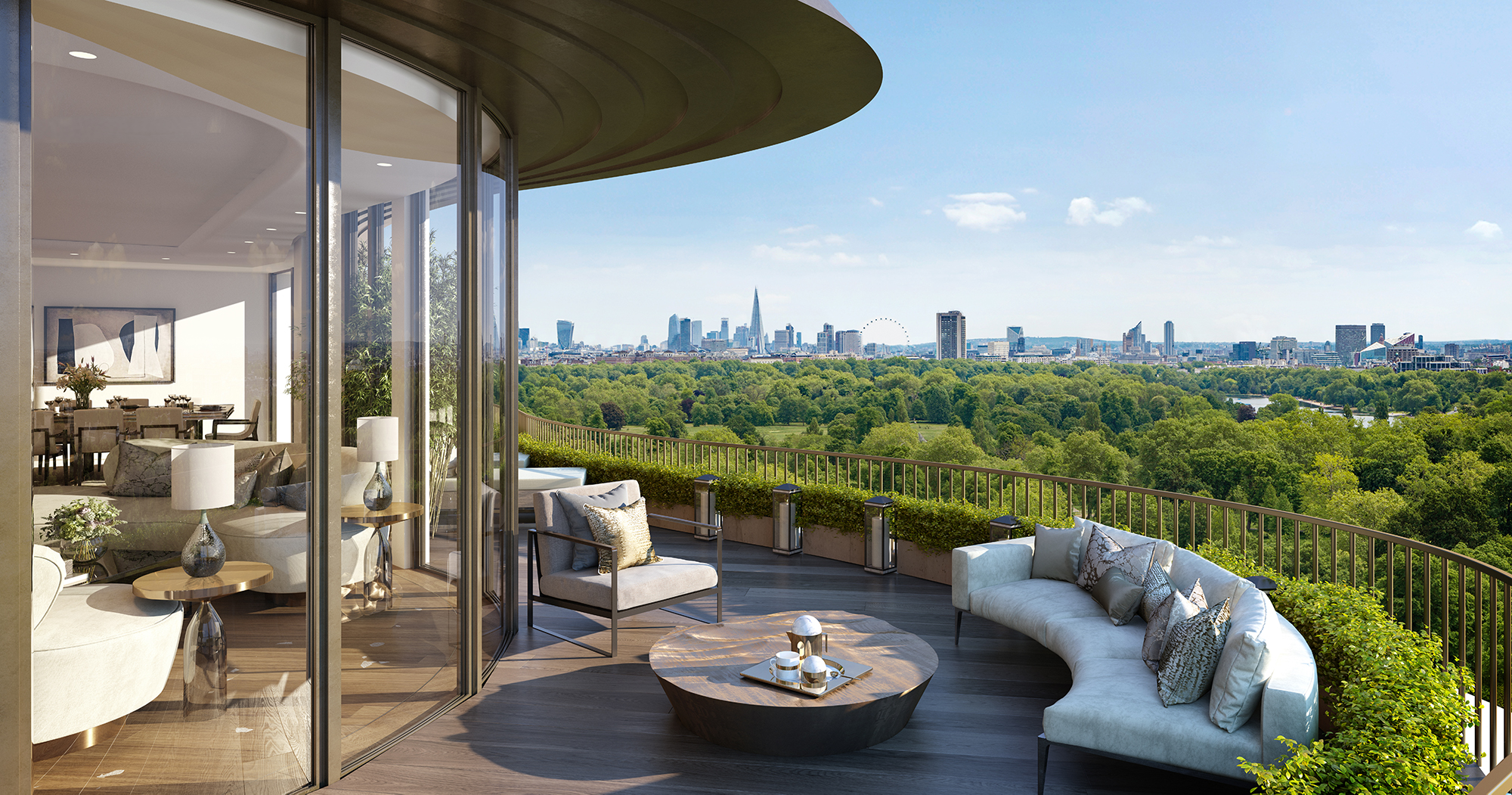 CGI of Park Modern, London
Speaking to The Times about Park Modern, Van den Huele, the founder of Fenton Whelan said:
"The pre-sales have been amazing. We have been communicating over Teams and Zoom with online presentations and models. We have sold about a third of homes, with some international buyers happy to buy without even seeing the site while others want to wait until travel restrictions have eased"
The time for tech is now
Great tech previously meant a sacrifice in artistry and creativity or vice versa. However, our unrelenting pursuit of bettering quality, combined with tech advancements has meant we are now able to bring everything together to a standard that excels, and is of a level that truly represents the amazing spaces and interior design of the projects we work on. Virtual experiences are now able to captivate and bring to life the detail of the interior design that you could previously only get with a still CGI or flythrough.
Virtual tours – showcasing the best
Virtual tours have the ability to show spaces to their absolute optimum. The purchaser can explore a residence in 3D from their laptop so they get to understand the scale of the space and get to see the finishing and specification in every single room, from every single viewpoint. This also elevates a level of trust between the purchaser and the developer – as there is literally nothing that can be hidden or unknown. Trust is one of the most important factors in buying a new residence – especially when a purchase is being done the other side of the world.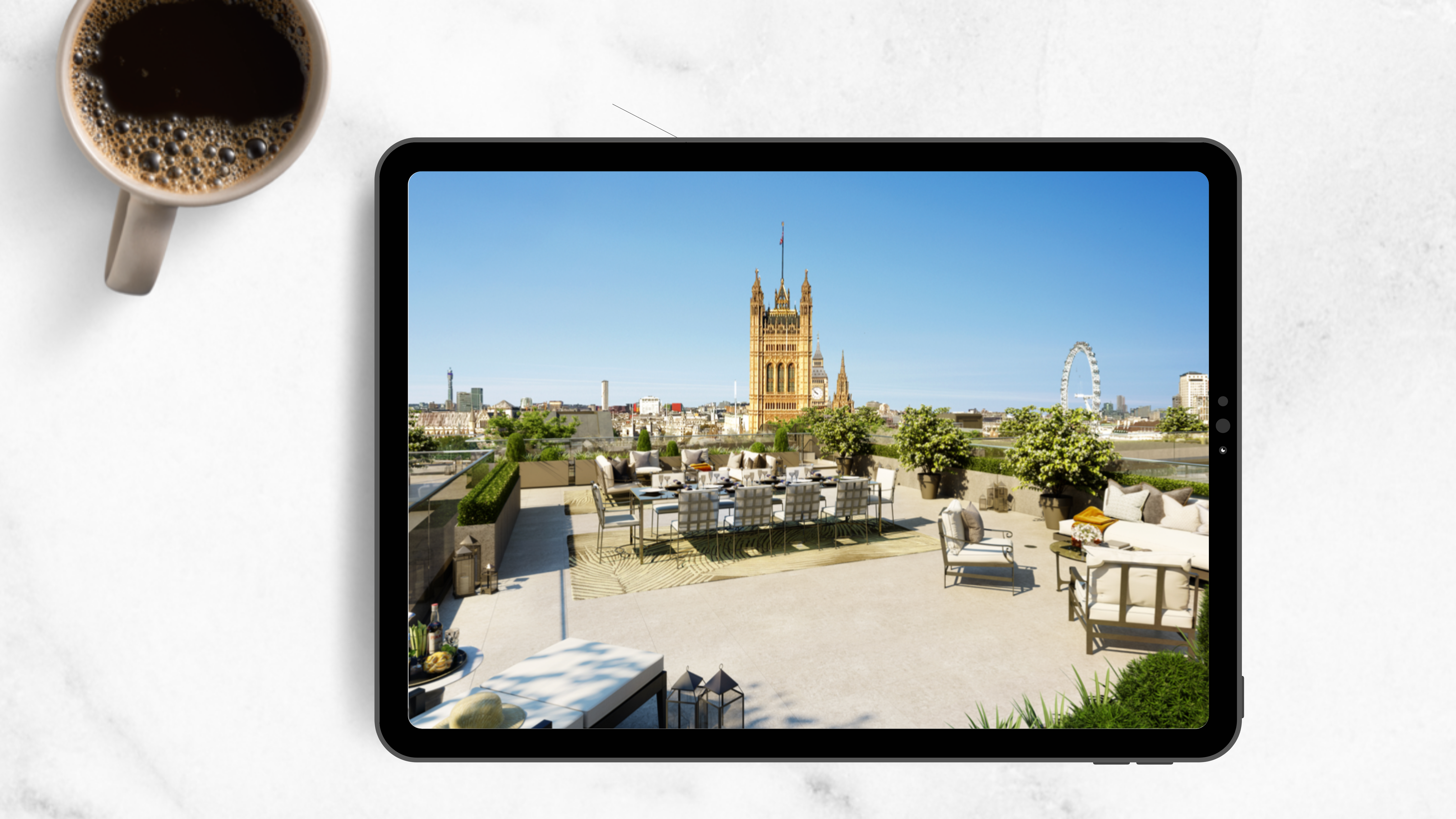 Seamless Virtual Tour for 9 Millbank, London
"The Seamless Virtual Tours have been a fantastic tool for us to use on 9 Millbank. Many buyers are unable to visualise a space from a 2D floor plan, let alone one with Grade II listed features, domed ceilings, cornicing and double-height wood panelling, so the virtual tours are unrivalled in their ability to demonstrate the spaces. Whilst static CGIs do a great job in selling 'standardised', uniform apartments, and CGI animation offers a really slick journey, being able to actually walk around an apartment and review every little detail is unquestionably a fantastic tool for our Sales Team."

Tom Banks, Head of Marketing at St Edward
Virtual show apartments
Could this also see the demise of physical marketing suites on certain projects? Of course, it's true that purchasers want to see, touch and get a feel for the final product but the inability to visit physically hasn't stopped internationals buying across the world without seeing product. This has questioned the need for such a considerable investment in physical show apartments when virtual show apartments can be created instead for certain target markets. The benefits of investing in virtual show apartments are endless. For example, developers can demonstrate numerous different interior design styles and fit out options to inspire different demographics. Virtual marketing suites give the developer the choices to be more bespoke in their approach to inspire potential purchasers rather than one size fits all approach. And on a practical level, when there are spec or design changes these can be changed digitally in a matter of hours not weeks (and no need for hard hats or people on site!) We've already seen developers re-direct their physical marketing suite budget into the creation of virtual assets and experiences tailored specifically around their target market profile.
So, where do we go from here?
We believe these changes are here to stay. The ability for people living internationally to view a development virtually will make the entire sales process more streamlined and efficient for both parties. 2020 saw companies pivot and react to the current situation out of necessity, but we're excited to see clients proactively embrace technology more strategically into marketing campaigns moving forward.