Avanton have been the first developer in the UK to embrace completely new social strategies including Influencer and TikTok marketing campaigns. They have featured in just about every newspaper and industry publication recently for their brave new ways of marketing as they make the switch from off plan marketing with CGIs to finished product. We speak to David Ronson, Avanton's Marketing Director about the project and why they felt now was the time to embrace new ways of marketing.

– Can you tell us a bit about Avanton and your development Coda?
Avanton is a new dynamic and progressive London property development company. We collaborate with the finest architects, landscapers, designers and constructors, to create places where people love to live, work and enjoy. Places that are innovative and inspiring, appreciated both for their design and quality as well as their future value.
Coda is a new vision of modern living. Located in the evolving Battersea neighbourhood just a few steps from the Thames, Coda is uniquely positioned between several ambitious revitalisations that are transforming central London. On ground level, Coda will serve as the new headquarters for the Royal Academy of Dance, which in turn will bring a thriving community and creative energy into the building. Above, Coda offers 130 new residences in an amenity rich building that overlooks London. Serene private gardens and a state-of-the-art gym are just some of the many exciting features that await inside.
– When did you originally launch and how have sales and marketing have been going?
Avanton has successfully sold 85% of their flagship scheme Coda in Battersea. The sought after development has generated over £30 million of deals in 2021 and a local sales record has broken after a three-bedroom apartment achieved £1,450 per sq. ft., with buyers drawn to the amazing views and modern architecture.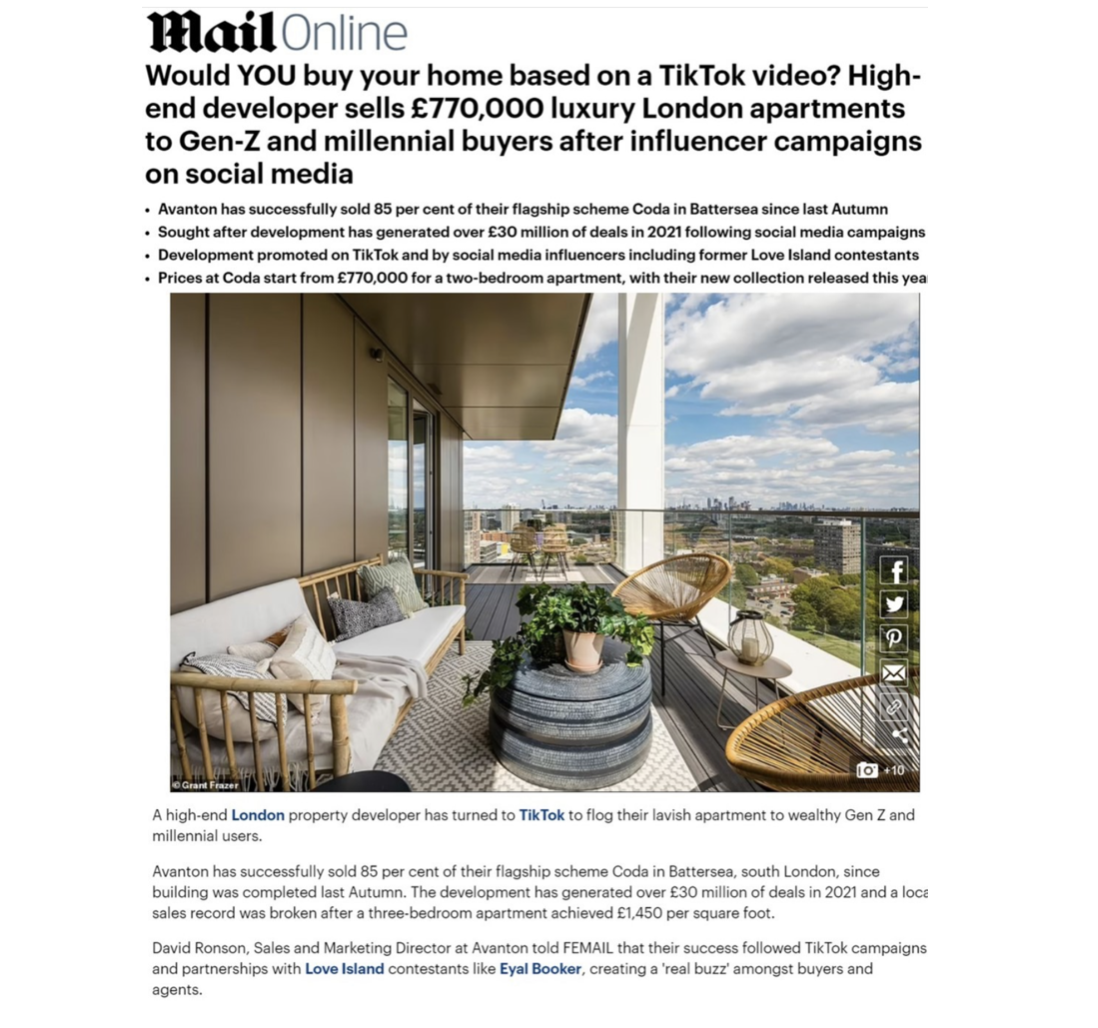 – Your influencer campaign and TikTok marketing were the first to have ever been done in the UK. Can you tell us more about them?
TikTok: We partnered with luxury agency Corban Group to showcase Coda to a new audience on TikTok. We are the first developer to start actively creating TikTok video content, and the videos have helped to drive traffic of interested buyers to view our apartments, selling a 'lifestyle' as well as the property alone. Using TikTok as a sales platform has really driven interest and created a buzz around the development with buyers and agents. As a new marketing technique, TikTok videos are certainly a way to communicate with a different target audience and showcase our product in a fun, engaging format. Today's buyers are switched on and want the apartment buying process to be as streamlined and accessible as possible from their mobile phones – posting on TikTok is a fun way to catch attention and showcase the high-quality, sleek lifestyle on offer at Coda.
Influencer stay: Avanton has undertaken London's biggest celebrity "test drive" with young celebrities and influencers staying in 'separate households' overnight in a collection of the new luxury apartments at Coda. With a combined social media following of over 3.15 million people, the celebrities and influencers who "test drove" the apartments at Coda include Love Island star Eyal Booker, his model girlfriend Delilah Belle Hamlin, the daughter of Hollywood actor Harry Hamlin and Lisa Rinna, from the American TV show The Real Housewives of Beverly Hills; Lottie Moss, fashion model and sister of Kate Moss; Love Island and Dancing on Ice star Maura Higgins; Love Island star and fashion tipster Francesca Allen; model Hana Cross, former girlfriend of Brooklyn Beckham who has been the face of Asos, Topshop and NastyGal; and Siãn Welby, the radio host and television presenter who fronts the Capital FM Breakfast Show with Roman Kemp. Each celebrity and influencer guest, and their respective household partner, were invited to stay overnight in their own private apartment with caterers delivering food, champagne and other refreshments to the door of each apartment for the guests to enjoy in the privacy of their own "residence".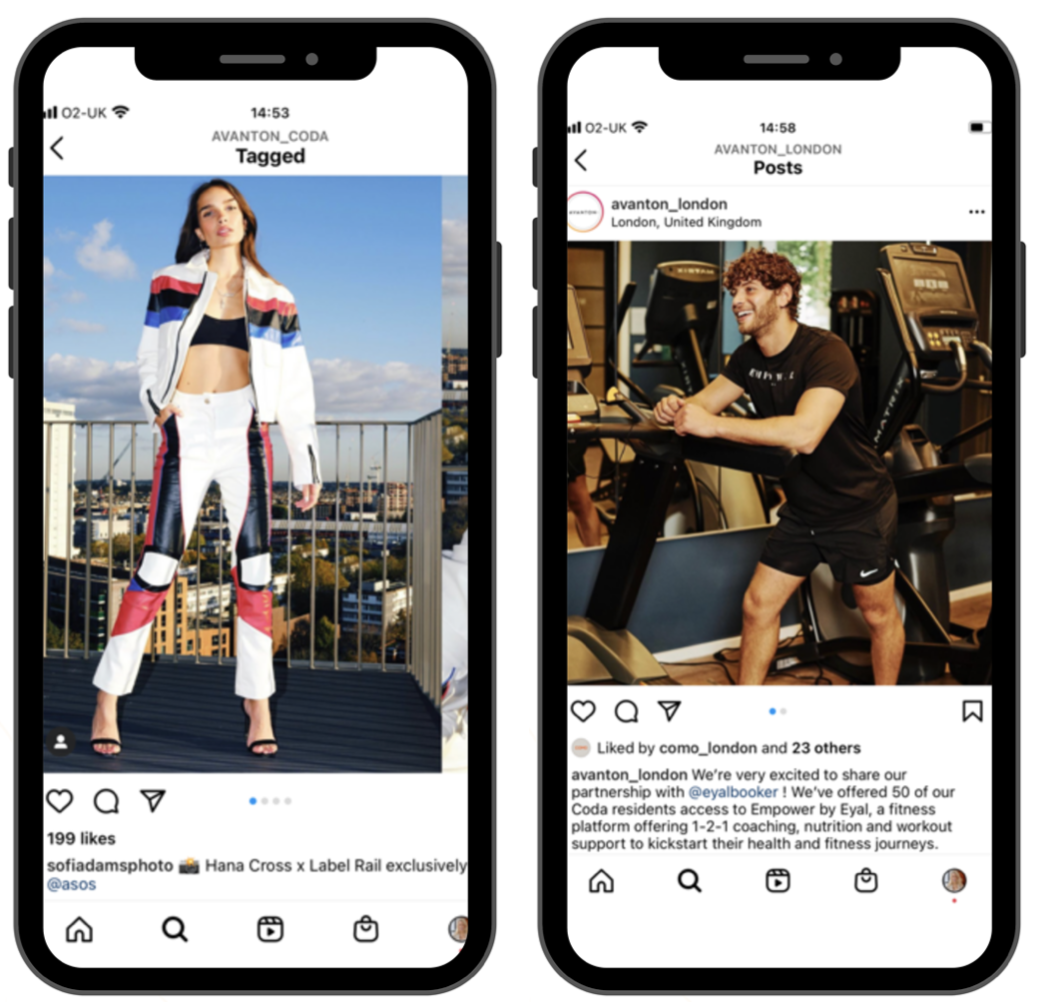 Hana Cross shoots for ASOS on one of the balconies whilst Eyal Booker provides some tips at the gym for residents
– What lessons did you learn?
TikTok is hard! Despite being au fait with Instagram, TikTok is a different beast and took some time to get used to. It's also really fun to use and rather addictive once you get going. We have loads of ideas for new content and fortunately Coda is brimming with brilliant features to film.
– Do you think the timing of the campaign in line with development phasing is important (ie having product to show?)
Yes and no, for us using social media as a marketing tool is one of brand awareness rather than necessarily linked directly to sales. It has no doubt boosted our sales performance but most importantly it has brought attention to Coda and Avanton as a developer. We are due to launch The Terrace Collection at Coda later this year, TikTok and Instagram have been great tools to show sneak peaks.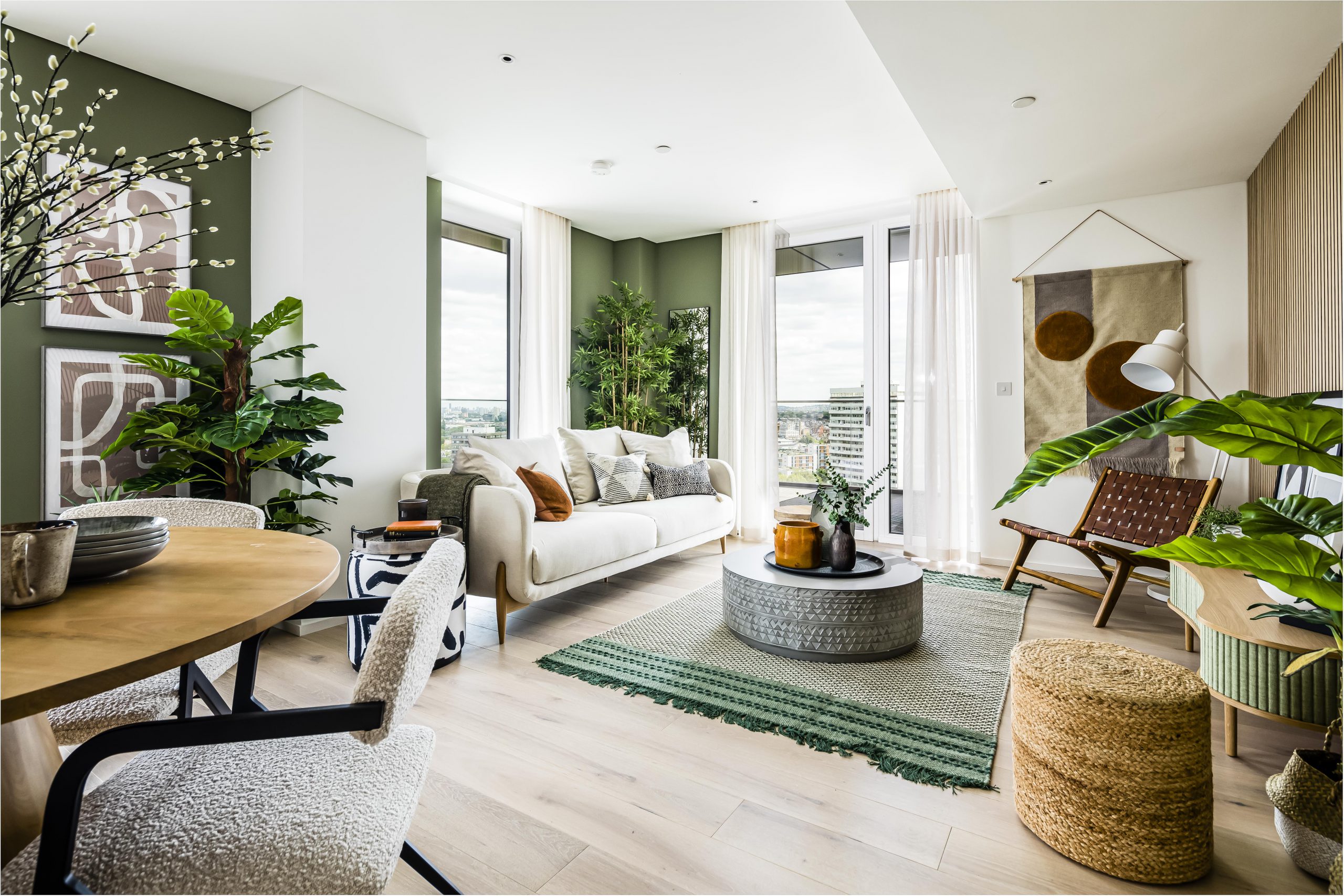 Influencers "test drove" the apartments
– Doing something different can be a brave thing in the property market – how did the team around you respond to the idea?
Given they're mostly under the age of 30 they were very much on board with it, there's been a lot of excitement with the onsite team in making videos in our fabulous apartments.
– What has the feedback in the industry been like?
Mixed, some of the more traditional establishments aren't sure of it's merit but on the whole very positive and the right side of surprised. Making ripples for the right reasons is good and it seems to be serving us well. We are small and nimble enough to do it, so why not!
– Will you do it again and will you be implementing new digital strategies across any of your future developments?
Yes for sure, watch this space!